Welcome to Gort na Nain Farm
Gort na Nain Farm & Vegetarian Guest Accommodation is run by Lucy Stewart and Ultan Walsh. Situated facing the Atlantic on the South Coast of County Cork, Gort na Nain is the perfect location for those wanting a quiet rural break set within stunning coastal scenery.
Those visiting Gort na Nain will be treated to the very best home-prepared vegetarian cuisine based on vegetables grown on our small vegetable farm, which also supplies some of the best restaurants in Cork City.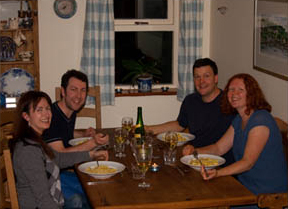 We hope that in terms of scenery, comfort and hospitality, Gort na Nain will be exactly what you're after!
We look forward to welcoming you to Gort na Nain!