Dining at Gort na Nain
There is nothing better than fresh produce, and here at Gort na Nain all meals are based on vegetables grown on-site, and prepared within minutes of picking. Consequently, eating at Gort na Nain is a truly seasonal experience and we pride ourselves on providing the very best in home-prepared vegetarian cuisine. In addition to the array of vegetables grown on-site, we keep our own hens for eggs and we source the finest Irish cheeses that accompany many of the dishes. Furthermore, we keep our own bees which provide honey of exceptional flavour, owing to the abundance of local wild flowers. We are happy to cater for those with specific dietary requirements (e.g. dairy free, gluten-free etc)

Sample Menus
Breakfast at Gort na Nain is a special treat, and will set you up nicely for the day. Help yourself from a variety of excellent organic muesli and cereals, fresh fruit, yoghurt, fruit juice, and homemade breakfast muffins/scones. It's important to leave room, however, for a cooked breakfast - why not choose from the following, which will definitely keep you going until lunchtime!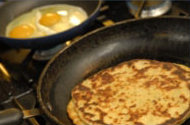 Homemade Chestnut sausages, served with fried potatoes, poached egg and spicy tomato chutney
Scrambled eggs with rosemary and Gabriel cheese
Drop-scone pancakes with butter, lemon and maple syrup
In addition, we bake all our own bread including Irish soda bread, Irish treacle brown bread, sourdough bread, foccacia and ciabatta. Furthermore all jams, chutneys and relishes are homemade.
We offer evening meals to our B&B guests on Friday, Saturday and Sunday evenings. Please book in advance if you wish to have an evening meal on any of these evenings during your stay. For group B&B bookings (where all three rooms are booked), an evening meal may be available during the week - please ask in advance.
Spring
Starter:
Roasted baby artichokes with lemon and honey dressing, served with a salad of rocket, oriental greens and St. Crozier blue cheese
Main Course:
Homemade tagliatelle, with fresh asparagus in a white wine, cream and thyme sauce
Dessert:
Homemade rhubarb ripple ice cream, served with ginger crumble biscuits
Summer
Starter:
Cherry tomato and saffron tarlets, served with a Summer salad of fresh tomatoes, broad beans and sugar snap peas
Main Course:
Roasted baby aubergine stuffed with sauteed courgettes, lemon and toasted pine nuts, served with polenta triangles and roasted pepper sauce
Dessert:
Chocolate raspberry torte, with fresh raspberries and creme fraiche
Autmun
Starter:
Balsamic roasted beetroot, served with creme fraiche and honey-sweetened chilli sauce
Main Course:
Pumpkin and borlotti bean molé (a tomato based sauce flavoured with chilli, chocolate and toasted almonds), served with crushed potatoes and creamed spinach
Dessert:
Spiced wild blackberry cheesecake
Winter
Starter:
Chard parcels of puy lentils and crushed garlic potatoes, served with spiced tomato relish
Main Course:
Parsnip, cumin and Gabriel cheese tortelloni, served with a tomato and ginger sauce
Dessert:
Cranberry upside-down cake with cinnamon ice cream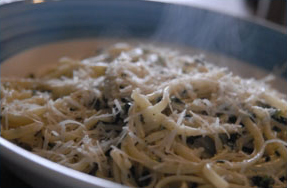 Since Gort na Nain is a busy working farm, lunch is not provided.